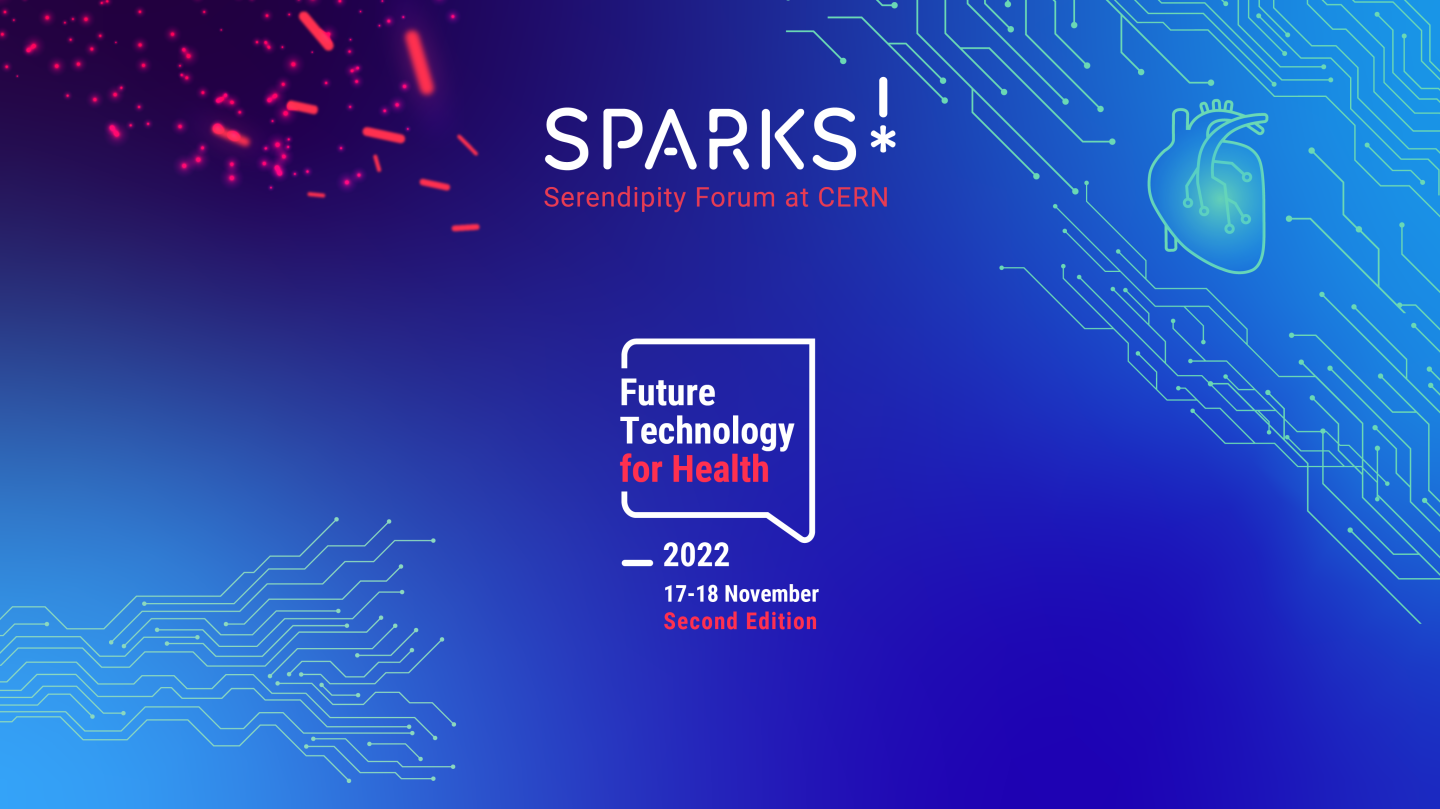 The second edition of Sparks! will be hosted at CERN on 17 and 18 November with the theme "Future Technology for Health"
After a successful launch and first event, Sparks! is happy to announce a second edition of the Serendipity Forum. On 17 and 18 November 2022, CERN will once again host the Sparks! Forum on campus at the Globe of Science and Innovation and IdeaSquare, the innovation space at CERN.
The theme for the second edition will be Future Technology for Health. Whether in the domains of prevention, diagnosis or treatment, the topics for this edition of Sparks! will seek to ask new questions linking medical technologies to fundamental science, ethics, globalisation and more.
This second edition will feature a podcast series, a public event and videos broadcasted on official CERN channels, an academic forum, a yellow report and at least one published article, as well as some behind-the-scenes snippets along the way. Sparks! will bring together up to 50 selected experts and other professionals from around the world to discuss the future of health and its implications for society. Confirmed podcast guests and forum participants so far include: Dr Soumya Swaminathan (WHO), Jennifer Doudna (Nobel Prize), Sir Jeremy Farrar (Wellcome Trust), Pushmeet Kohli (DeepMind), and Els Torreele (UCL).
The forum will address topics such as accessibility, ethics, research challenges and priorities, and global interdependence. For example, we'll be asking whether the most recent and high-performing prevention, diagnosis and treatment solutions will finally be equally distributed, reaching everyone regardless of their location and socioeconomic status. What will medicine look like if and when data has all the answers? Patients, consumers, doctors and corporations will all have their separate needs – how will these be addressed and what will the consequences be for medical research?
Indeed, CERN has actively pursued medical applications of its technologies since as far back as the 1970s. At that time, knowledge transfer happened – mostly serendipitously – through the initiative of individual researchers. Through a number of collaborations and developments, CERN has continued to build a culture of entrepreneurship ever since. On this subject, another question we plan to discuss is whether the collaborative experience of particle physics could become a model for medical research disciplines.
We invite you to keep an eye – and ear – out for Sparks! content, which we will deliver to both the CERN community and the public at large starting from the end of the summer and culminating in the Forum and public event in November (check our website regularly for the updated speaker list). Only a small number of people will be able to attend the public event in person due to limited capacity, but it will also be webcast in full for the broader public. In the meantime, you can enjoy the first series of the podcast and view all the talks from the previous edition.
Sparks! is part of the CERN & Society programme. CERN & Society activities are only possible thanks to support received from partners, in particular Rolex and its long-standing association with the organisation. The 2022 Sparks! event is also supported by the Didier et Martine Primat Foundation.
If you are interested in supporting this programme please contact us at partnerships.fundraising@cern.ch