Giving the opportunity to support and empower a future generation of scientists is what is most dear to Stefan and his wife Paulina. Their commitment to the CERN & Society Foundation shows exactly how true this statement is to them.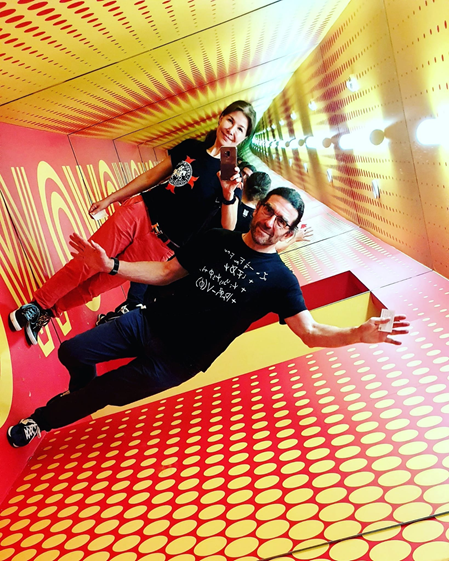 "We learned about the CERN & Society Foundation when searching for opportunities to visit CERN", says Paulina, and even though they only could visit many years after, they immediately started supporting CERN's charitable activities to foster science "as a torch that illuminates the world".
As a Stefan, a retired Swiss physicist and Paulina, a Canadian economist, both holding a degree in philosophy, speak eloquently about their passion for science and its importance for the future of our planet. "Apart from helping us to better understand the world around us", they say, "science is also the foundation for developing new technology and for shaping the world. This results in all kinds of benefits for humanity. There are, however, also side-effects threatening all living beings on the planet. Humanity will thus have to learn to use science as a means to mitigate such existential threats."
As regular donors, Stefan and Paulina endorse all kinds of projects, believing that their gift will foster the enthusiasm for science and nurture its dissemination to widest possible audience. So much so, Paulina even decided to formalize a legacy pledge to the Foundation this year!
In Stefan words, "CERN, as a machine, is the largest microscope enabling humanity to test the theories developed in the search for an explanation of our existence; as an Organization, it is one of the broadest and most successful international collaborations ever, and it can be used as a role model for addressing the challenges humanity is confronted with." It is Stefan's and Paulina's hope that the Foundation will help "successfully promote science and the importance of collaboration to the young generation across the globe", and for this reason they will continue to support it.
It's always inspiring and useful to listen to the perspectives of our donors, and we are very proud to be able to count on our regular donors, who allow us to sustainably spread the spirit of CERN scientific curiosity, for the inspiration and benefit of society.
Join our big family of generous and open-minded people with a gift today: